Green Trough installed in Stavanger, Norway
Green Trough 200 series was installed by NJD
at their new maintenance depot in Stavanger, Norway.
Working together with Green Trough distributor, ACTE Norway, NJD's installers welcomed the lightweight HSE compliant Green Trough units which they carried and installed by hand.
The installation was a perfect example of Green Trough's flexibility, allowing the installers to easily navigate obstacles and manually process/adjust units on site.
Green Trough installed at Koge Nord, Denmark.
Introduction of Green Trough in Denmark
Green Trough installed at Koge Nord's new high speed railway station in Denmark.
We are delighted to report that Green Trough 150 series has been installed as part of the impressive Koge Nord station in Denmark. The installers wanted a lightweight, strong cable trough which would also allow easy access to cables in future.
Details of the station and it's striking design can be viewed here
Development of New Pump Source Technology for Raman Amplification
Furukawa Electric has developed new Pump Source technology for Raman amplification using incoherent light. The new Pump Source technology using incoherent light suppresses the effect of fluctuations in the pump light on the signal light. This makes it possible to realize co-propagating Raman amplification, the practical application of which has been difficult in the past. Co-propagating Raman amplification is an effective technology for the improvement of transmission characteristics and extension of transmission distance in optical fiber communications. This new development is expected to contribute greatly to the development of high-speed and large-capacity optical fiber communications systems, including for digital coherent optical transmission at 600 Gb/s and at over 1 Tb/s, which is being developed around the world in response to the expected rapid increase in traffic in the 5G era.
This new Pump Source technology and its effectiveness in Raman amplified light transmission were presented at Photonics West 2019(note 1), the world's largest international conference on optical technology held in San Francisco from February 7, 2019, and at OFC 2019(note 2), the world's largest international conference on optical fiber communication that is being held in San Diego from March 3, 2019.
Commencement of mass production of FOL1439 series pump source lasers for Raman amplifiers with outstanding high output power and low electrical power consumption and development of FRL1440 series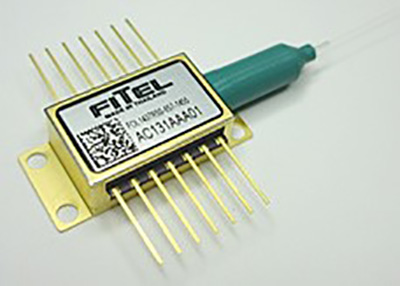 Furthermore, high optical output operation can also be supported as the FOL1439 series has a maximum optical output up to 600mW (Tcase = 70°C) and the FRL1440 has a maximum optical output up to 620mW (Tcase = 70°C).
As it is expected that there will be requirements for even higher output and lower power consumption characteristics in the future, Furukawa Electric will continue to aim for even higher performance enhancements based on the technology in these products.
Comparison of specifications (Typical spec, Comparison in C band)
Furukawa Electric Receives "Top 100 Global Innovators 2018-2019" Award
Clarivate Analytics

High Praise for Our Innovative IP Activities to Develop Global Business
Furukawa Electric Co., Ltd. has been selected in the "Top 100 Global Innovators 2017" awards, judged by Clarivate Analytics (headquarters: Philadelphia, U.S.A.; Japan office: Minato-ku, Tokyo), and on June 12, Furukawa Electric received a trophy from the company. The intellectual property activities of the Furukawa Electric Group have been recognized in the awards three times so far, with the last award received in 2015.
Furukawa Electric received high praise in the criteria of "success," which is based on the rate of patents granted, "globalization," which is an indicator of patents applied for in the United States, Europe, China, and Japan, and "influence," which is an indicator of the frequency at which a company's patents is cited in the inventions of other companies.
Reasons for selection (cited by Clarivate Analytics)
This award signifies high global approval of our intellectual property activities toward new technologies that will carry future business. We believe that our selection for the award is a result of our work in R&D activities and IP activities carried out under the banner of strategy and globalization, and as such, we will continue to work to bolster these activities even further.
Left: Satoshi Sakurai, IP Solutions Senior Director, Clarivate Analytics Japan
Right: Tetsuro Ijichi, Corporate Senior Vice President and CTO, Furukawa Electric Co., Ltd.
Furukawa Electric introduces FITEL® S185 Fusion Splicers to Target Specialty Optical Fiber Splicing
We are pleased to introduce the FITEL S185 series of Fusion Splicers specifically designed for splicing specialty optical fibers used in optical components, fiber lasers, and optical sensors. As manufacturers increasingly use specialized fibers for constructing optical components and fiber lasers, conventional fusion splicers are proving unwieldy, expensive, and unsuitable for these applications. By emphasizing functions critical to manufacturing and removing extraneous features, Furukawa created the S185 Fusion Splicer series – a line of more compact, cost-effective, and efficient splicers for use in production and with specialized fibers including Polarization-Maintaining Fiber (PM Fiber) and Large-Diameter Fiber (LDF).
Furukawa Electric Europe will be attending these events and we look forward to meeting you there.
For further information please call our sales team on +44 20 7313 5300.